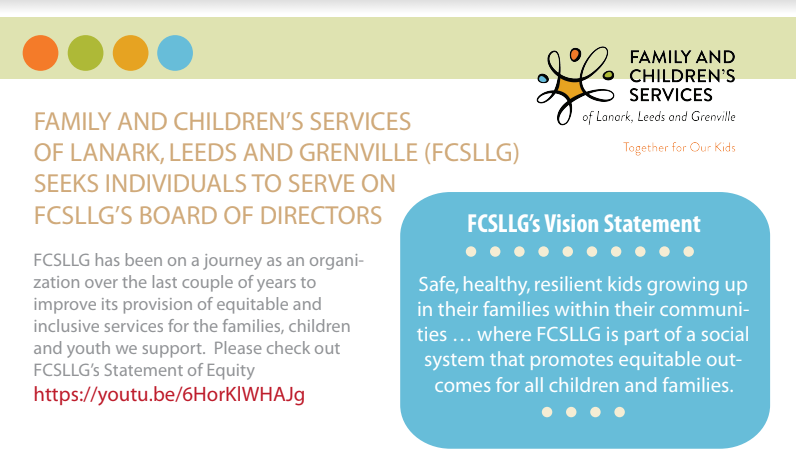 Seeking Individuals to Serve on FCSLLG'S Board of Directors
March 25, 2023
FCSLLG has been on a journey as an organization over the last couple of years to improve its provision of equitable and inclusive services for the families, children and youth we support. Please check out FCSLLG's Statement of Equity https://youtu.be/6HorKlWHAJg
Family and Children's Services of Lanark, Leeds & Grenville (FCSLLG) – a Children's Aid Society, is looking for new Board members who care about the children and youth of our community and want to make a difference by applying an equity seeking lens and anti-oppressive approach to the governance of the organization and the carrying out of its Mission and Vision to improve child, youth, and family outcomes.
FCSLLG's Vision Statement: Safe, healthy, resilient kids growing up in their families within their communities … where FCSLLG is part of a social system that promotes equitable outcomes for all children and families.
FCSLLG seeks representation from the diversity of peoples and perspectives from across the counties of Lanark, Leeds and Grenville (LLG).
We welcome all interested individuals, particularly representatives from equity seeking communities, including:
• Members from Indigenous communities, including First Nations, Inuit, Métis and Indigenous communities
• Members of the Black community and people of colour
• Individuals who identify as LGBTQ2S+
• Varied religious or spiritual faith groups
• Individuals with visible and invisible disabilities
• Other members of equity seeking or marginalized communities
If you have or desire the experience of…
• Serving on a Board of Directors;
• Representing community interests in a government funded professional organization;
• Developing strategic directions that promote service excellence;
Please contact Tammy Shepherd, Executive Assistant for more information at 1-855-667-2726, ext. 6288.